Have no fear of perfection – you will never reach it.
Salvador Dali
Although I am a great fan of the importance the word has taken on in the realm of relationships, I'm not a great fan of the word itself: Vulnerability. According to the Cambridge dictionary, vulnerability is the ability to be easily physically or mentally hurt, influenced or attacked. The origins of the word come from Latin. Vulnerare means "to wound, hurt, injure, maim."
Of course, it could be that Cambridge hasn't kept up with how vulnerability is these days being used and applied in the domain of psychology or romance. But when I, in my couples counselling, speak of vulnerability I usually don't intend to speak of people being easily hurt, influenced or attacked. Let alone in encouraging them to get hurt or attacked.
Vulnerability in Romance
Yet, that is how most dictionaries describe vulnerability. And it's that understanding of vulnerability that makes most people understandably reluctant to strengthen their capacity for it. Who, in their right mind, wishes to be hurt? Who, in their right mind, would pride themselves in their capacity to be easily hurt? Who, let's face it, truly wants to do vulnerability in romance with this definition?
I'd like to propose to turn the idea upside down, and hold it up against the light.
When first we respond to the invitation to come dance with another, it feels mesmerising. "Here is someone who adores me, admires me, respects me, wants me – and here is someone for whom I feel the same."
When we open up the shutters, doors and windows to invite all those gorgeous feelings of infatuation and love to rush in, we also allow all their polar opposites to sneak in. When we let down our guard for all the goodies to come in, we let our guard down, too, to things that make us feel uncomfortable. When we let the joy come in, so too arrives a fear of losing all that again. Of maybe being rejected, or abandoned. Of maybe not being good enough.
Opening up to Being Touched
We open ourselves to be touched, and we seek to touch another person – mentally, artistically, physically, spiritually, emotionally. The way "vulnerability" is used when speaking of romance, we actually mean this type of opening up. We seek to be connected with someone else. And when we do so, we seek the reward of joy, while often ignoring the risk of discomfort, of fear, or pain. Insecurity, jealousy, clinging, fear of losing all that was so blissfully happy, nasty experiences from previous relationships.
Allowing love, affection and eroticism to come in inherently also invites in the agony of maybe losing it all again. And that will, inevitably, happen. No one can be infatuated 24/7, 365 days a year. We need to work, we need to clean our clothes, scrub the oven, tend to sick people in our lives, stand up to colleagues and handle stress and strains of life in the workplace. We still need to spend time with our friends, and bring the dog to the vet. Life continues, after all.
The Masks Arrive on Stage
We start putting on masks to avoid showing the bits of ourselves that we fear they might not like, and might maybe make them run for the hills. Instead of revealing ourselves, slowly slowly, we start hiding ourselves. Instead of connecting, we start disconnecting. Instead of exercising our capacity for enhanced and enduring curiosity, we start flying on autopilot. Instead of looking into each other's eyes, we start scrolling our phones.
Instead of seeking our inherent truths of who we are, in all our glorious imperfections, and speaking of what it is we find as we do those explorations, we close off. To ourselves in our inner truths. And to the significant other in our lives. Life becomes stale, relationships unfulfilling. The bubbles in the champagne have all risen to the service and what remains is a somewhat uninspiring white wine.
Colliding Imperfections
Relationship is where your imperfections collide with my imperfections
Terry Real
It is these imperfections Terry Real speaks of that I've been trying so hard to avoid being seen by the loved one. They'd been hidden behind the mask, after all. A mask of joviality, of always having solutions, of having the best argument to win any fight, sometimes of depression even. If only you don't know of my imperfections, you will not leave me, and I don't have to see them image in the mirror at first daylight.
From where I sit, it is this dullness, this numbing, this disconnecting from others and from myself where the vulnerare is at its worst. No longer the hope of validation – just the paralysing fear of rejection and abandonment.
The neurochemistry of infatuation has worn off, and we might feel as if we have been forced to go cold turkey off our drug of choice. Life seeping away, loneliness setting in. The awareness that I have myself allowed to become someone disconnected from myself. I have started to confuse the mask I've put on as the person I am. The mask has become me.
The Mask as a Hurdle
The way out of this numbness is to see the mask for what it is: a way of protecting myself that simply no longer works. What once protected me from getting hurt has now become a hurdle, a source of wounding. Of loneliness. This mask stands between me and the one person I hold most dear in the world.
If I wish to be seen, validated, acknowledged, or witnessed I can't but choose to lower the mask, to reveal myself. The courage to do so originates in my embrace of my own imperfections, my failings and shortcomings, my soundings and how they show up in my life – in short: in my being human.
This, what I just described in the previous paragraph, is what currently goes under the heading of "vulnerability in romance". For me, that term doesn't do it justice. I don't reveal myself to be wounded, hurt, attacked or injured. I reveal myself because I want to live a genuine life, an authentic life. A life without too many lies, facades, make up, or mask. I seek not validation for my masks, I seek recognition of being alive, as a human being. Fallible and imperfect.
I don't thrive on other people's approval. I thrive on being witnessed.
Risking Rejection and Abandonment
And, it is absolutely true: while I exercise this skill (or: while I experience this experience) of being authentic and genuine, I will encounter people who might reject me and abandon me. I might encounter ridicule and shaming. I might find that some will try to use what I revealed to further their own goals, possibly at my expense.
So, I'm selective with whom I reveal what. And when people consciously seek to inflict their vulnerare on me, I do my best to have my boundaries up and running. To avoid the rain of flaming arrows setting my ego ablaze. And I accept that being open comes at a price, sometimes.
This type of vulnerability in romance is a risky endeavour. I compare it to me handing rough, unprocessed iron ore to someone else. Every revealing detail about me is another chunk of iron ore.
Revealing Iron Ore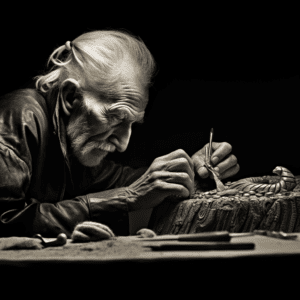 I originally have no idea what they'll do with it. They could grind it to dust, and smith a razor sharp dagger out of it. A dagger that they one day might stab me with, from the back. They could also leave it respectfully untouched, aware that the iron ore is mine and not theirs to do with as they please. Or they could choose to smith an adornment out of it, to be exhibited only in the sanctity of our home.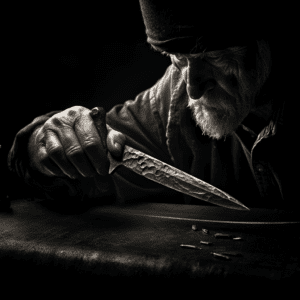 What they do with the iron ore I gave them is mostly beyond my control. I won't scatter it about, hoping that someone out there might maybe be intrigued or seduced by it. I consciously choose whom to share it with, and trust that it will not be abused.
What I do know is that if I don't give them this iron ore, they will never truly know who I am. They will not be able to make their own, informed decisions about me, or us. And my longing for something resembling unconditional affection will never be met.
Revealing my iron ore is the entry ticket to being seen for who I am. Without the mask. With the scars, and the pores, and the saggy eyes. And the sparkle, the genuine smile,
the stardust running through my veins.
Vulnerability in romance is not the goal of relationship. It's a byproduct.
The goal of romance is to be heard, understood and felt. To be seen, in all your glorious imperfections.
And, yes, you will get hurt along the way.